Faculty of Hospitality and Tourism Studies of The Maldives National University wins the prestigious World Culinary Award 2021
Posted on 02-12-2021 at 20:42 in News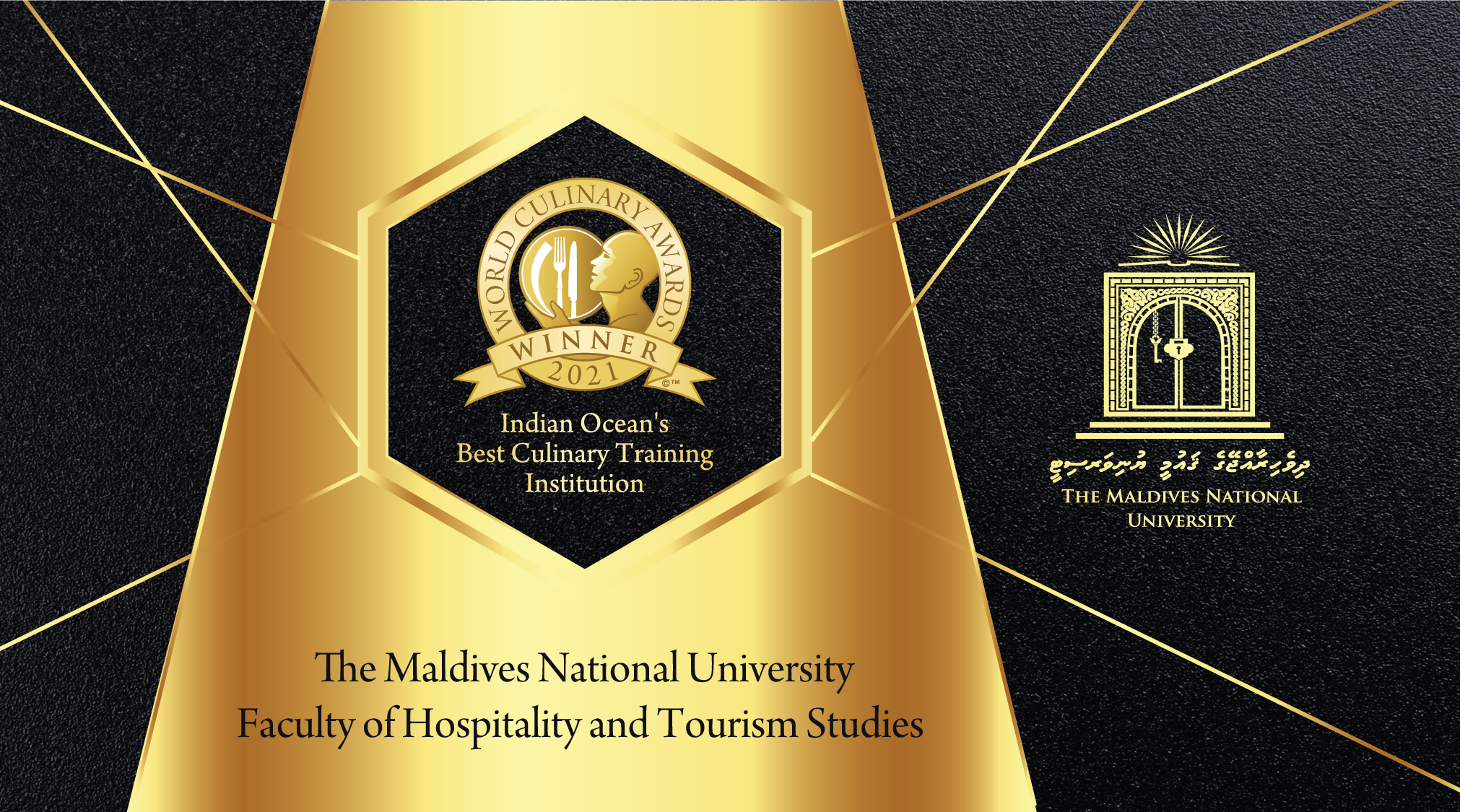 Faculty of Hospitality and Tourism Studies of The Maldives National University wins the prestigious World Culinary Award 2021
The Faculty of Hospitality and Tourism Studies (FHTS) of The Maldives National University (MNU) has been awarded the World Culinary Award in the category of "Indian Ocean's Best Culinary Training Institution"
at the 2nd Annual World Culinary Awards. The winners were announced on the official website for the awards on 30th November 2021.
Faculty of Hospitality and Tourism Studies (FHTS) of The Maldives National University (MNU) won this award after competing with three other culinary training institutions from the Seychelles and Mauritius including the previous winner in the category; Olivier Culinary School from Mauritius.
The Faculty was nominated on merit for the award based on the faculty's past achievements as well as the institution's dedication to training students in the field of culinary arts – which includes conducting culinary courses and training participants for local and international culinary competitions.
The nominations were announced in May 2021 and the voting deadline to select a winner was 17th September 2021. Prior to the voting deadline, the faculty had conducted a social media marketing campaign asking students, staff and the general public to vote for FHTS-MNU in order to win the award for Maldives.
The Dean of the faculty, Ms. Zeenath Solih highlighted in a statement: "We are delighted for this major achievement by the University and the Faculty to win the first ever culinary award for Maldives. I would like to take this opportunity to thank the senior management of MNU, my fellow Deans and Heads of the faculties and campuses, my colleagues and staff, friends and students for their contribution. I would also like to thank fellow Maldivians who voted for FHTS-MNU and made it possible for us to win this award. We are determined to do our best to uphold the win today by providing high quality culinary training to the requirements of the Maldivians and our stakeholders. We hope to compete for and win this award next year as well."
World Culinary Awards is an annual award programme that was established in 2020 and serves as a sister event for the prestigious World Travel Awards which itself was inaugurated in 1994. The Culinary Awards is a global initiative to celebrate and reward culinary industry excellence. Winners are selected from every continent in the world under categories such as "best rooftop restaurant", "best culinary festival" and "best fine dining hotel restaurant" from different regions and destinations.
Faculty of Hospitality and Tourism Studies (FHTS) of The Maldives National University (MNU) is the oldest tourism and hospitality institute in the Maldives, established in 1987. Currently there are about 600 students studying in the faculty that offers courses ranging from Certificate 3 and Advance Certificate to
Bachelor's and Master's degree level. The faculty offers courses in areas such as Housekeeping, Front Office, Patisserie, Culinary Arts, Tour Guiding, Tourism Management and Hospitality Management.