by Ahmed Mirshan
The use of Moodle page during the Face-to-Face teaching have been somewhat very limited while teaching here at MNU. However, with the Covid-19 pandemic, we were required to take a drastic change of direction in the course delivery mode.
Having to go fully online in a short period was challenging. Careful consideration was thus required to come up with a strategy that is intended to make the students be able to use the full potential of online learning platform as well as motivate them to engage in the activities since students are well acquainted with the limited use of the Moodle platform.
In consideration of these, my idea for designing the course page HRM211 Employee Relations which I thought Part-time basis at Business School was to make the Moodle page attractive, easy to navigate, and an instruction-led page.
For this, I carried out research using Moodle tutorial pages and added additional creativity by going through tutorials available on other websites such as Youtube. Some enhancement has also been brought through trial and error where I envisioned the possibility and tried it out on the platform to see if it worked.
Furthermore, taking ideas from learning platforms such as Coursera and other online training I have participated, especially those designed on Moodle platforms, the design thinking I used for Module HRM211 was as follows;
Ease of navigation (use of colorful hyperlink page TABS)
Attractive (Use of limited graphics)
Modular presentation (Topic by Topic display per page)
Instruction based
Informative and motivational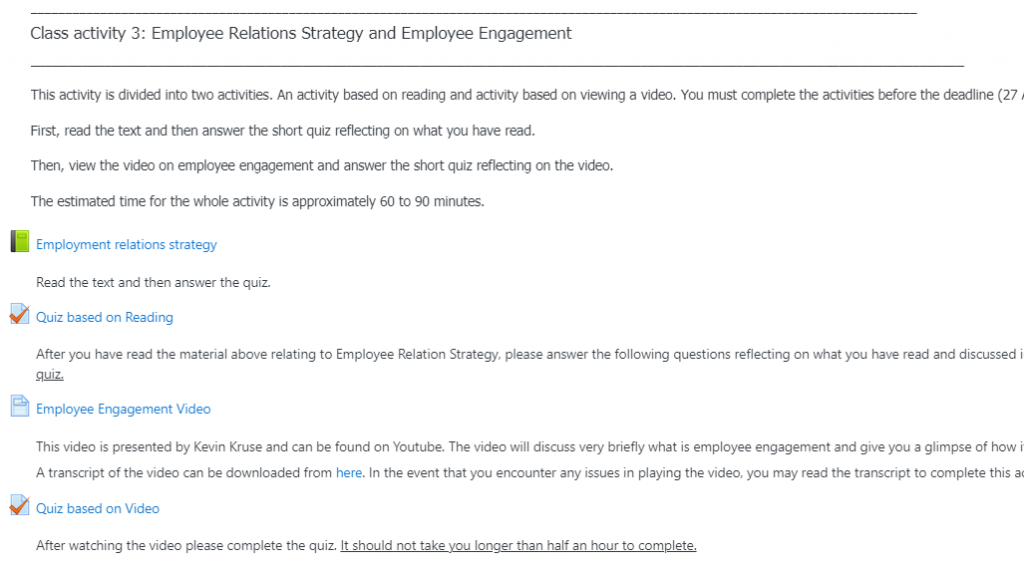 Once this was conceptualized then I decided on the type of content that I would be posted on the page. These included;
Banners
Learning outcomes
A step-by-step guide to activity completions and tutorial completions
Motivational Quotes
Key Definitions of the Module
Gamification of Activity Marks

Next planning was also made to make use of a wide range of Activity formats that are at times just for fun, bite-sized, and challenging.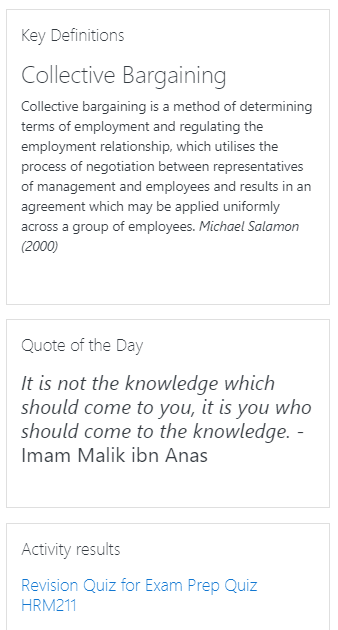 The page was designed with effort on my own without any prior training in Moodle. Few challenges existed for me to customize the page to my likings. These included time constraints, administrative restrictions, and limitations on Moodle.
Along the way, I have come to appreciate the possibilities one could exploit on the Moodle platform, understand what activities burn out students and what activities they enjoyed doing. I have also learned that the use of gamification does increase student engagement. Another important thing to note is to have a good formal feedback mechanism from the faculty or users about the course page design, which would help fix any errors, mistakes, difficulties encounters at the user end.
I thank MNU Business School for the opportunity to work and be part of their teaching faculty and CETE for recognizing the simple enhancements I brought out of passion to the Moodle page HRM211.
Ahmed Mirshan, BHRM, LLB
Part-Time Lecturer
MNU Business School